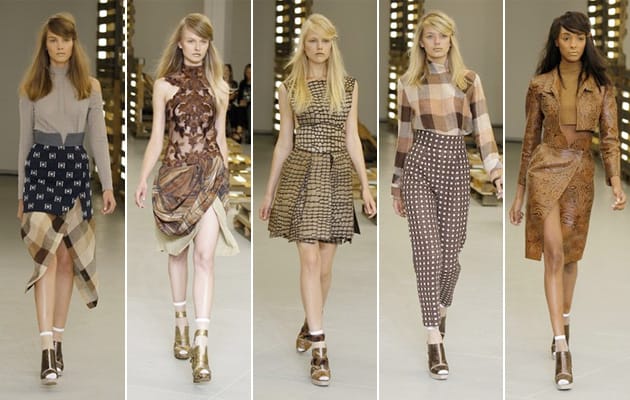 Rodarte Spring 2011
If nothing else, in my book, Rodarte gets the "most changed and matured" prize for their Spring 2011 collection. For five years Kate and Laura Mulleavy have sent quite the spectacle down the runway. Fringe; asymmetric, random almost, draping; albeit beautiful and show worthy, I was struggling to dub it wearable. But then came this, proper, Ready-To-Wear collection. Could it be the Mulleavy sisters were trying to pass a test? I cannot refrain myself from looking for a connection between the department-store-ready qualities of this collection and the recent rumor of LVMH acquiring Rodarte.
But enough business talk. Let's move on to pleasure. The Mulleavys said that for this collection they drew inspiration from the redwood forests of their native Northern California. And indeed, with all the rich tones of beige, brown and gold, you couldn't help but think of a forest, changing it's colors when Autumn time arrives. Clean, crisp silhouettes; collar shirts and high waist pants; simple paneled dresses and layered skirts; oh Kate and Laura how I love thee! 70s vibe is definitely a motif that could be felt. But trust Rodarte not to do it the obvious way. The Seventies feel came from their masterful fabric paneling of different brown and beige tones resembling wood paneling and carving, so indicative of the interior design and furniture of that time.
The last few dresses were pure gold. Quite literally. Albeit not made from the precious metal itself, these dresses and the entire collection is a rare find and has the potential of a raving commercial success. If this is what Rodarte LVMH looks like, I'm on board!

Rodarte Spring 2011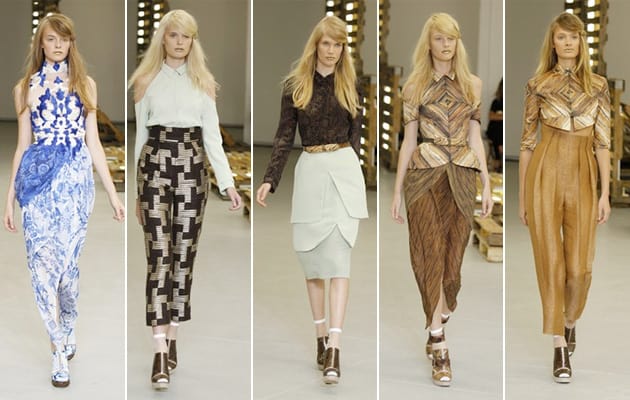 Rodarte Spring 2011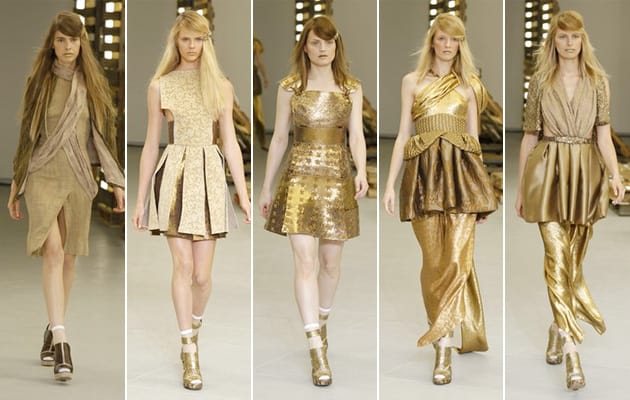 Rodarte Spring 2011