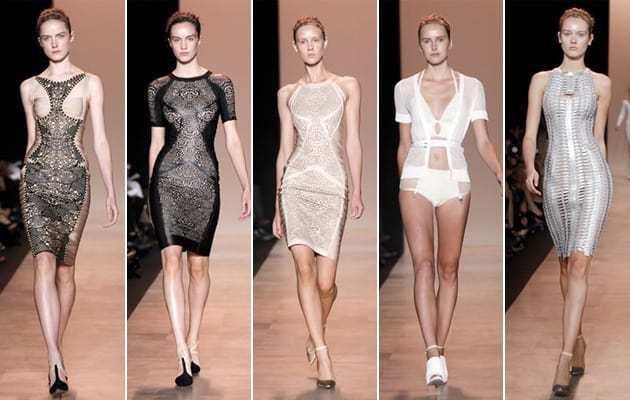 Hervé Léger By Max Azria Spring 2011 – The Good
The word "overworked" comes to mind when looking at Lubov's and Max Azria's new Hervé Léger Spring 2011 collection. Back in 2007, when Azria relaunched the Hervé Léger brand, he did so to a rave success. I too fell inlove with the simple silhouette of the sexy, playful and flattering bandage dress. But those days are long gone. WWD asked, "How many ways can one reinvent the bandage dress?". To that I say, not a lot, WWD, not a lot.
This season Azria introduced lingerie elements into the collection. But besides the minimal brassiere and briefs look (top image), the rest looked like dated not-sexy-in-any-way girdlewear (did I just make up a word?). The rubber lace played very well into the sensual edgy looks, so that too salvaged some looks. The rest were either boring and in no way flattering, or downright bad and freaky. The stiff tiered ruffles on some of those dresses created some of the worst shapes you could put a woman in.
Nae, I say to the 18th century inspiration.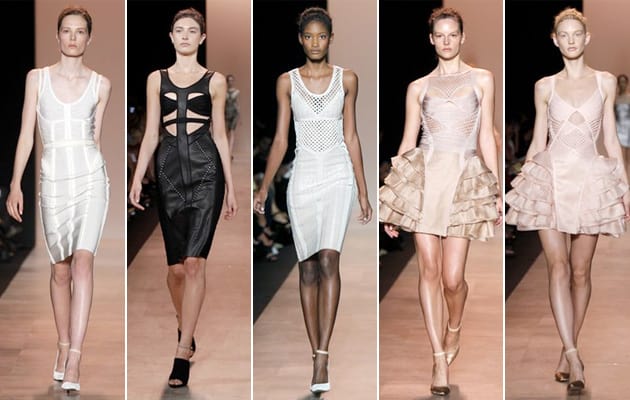 Hervé Léger By Max Azria Spring 2011 – The Bad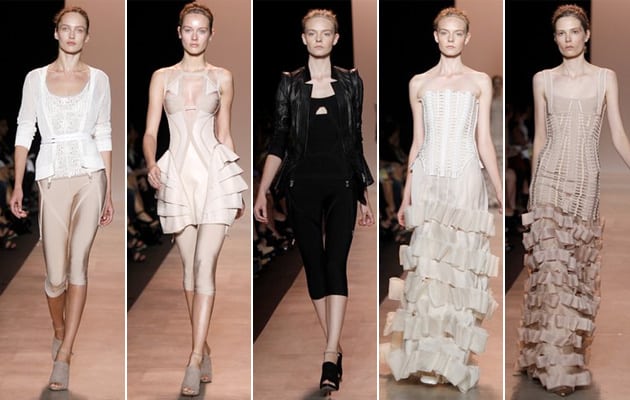 Hervé Léger By Max Azria Spring 2011 – The Ugly