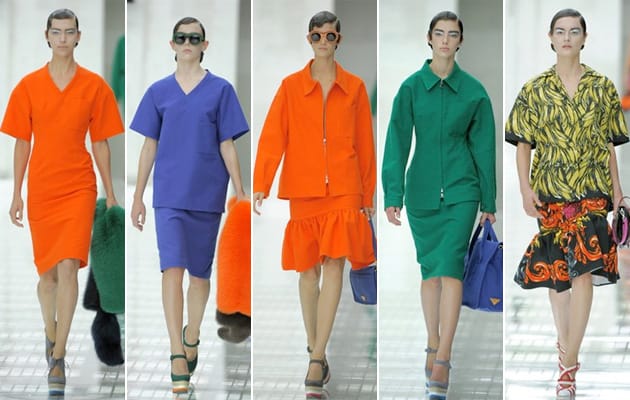 Miuccia Prada declared, "I'm tired of minimalism", right before her show. I see how she might feel this way after seeing how NY Fashion Week went. But from there to go and dress women in unattractive scrubs-like minimal silhouettes in technicolor and Darwinist prints is a far cry from what I'd expect Prada's resolution to the problem could have been.
If Prada's Fall 2010 collection was filled with flattering hourglass silhouettes (influenced by The New Look, but not to the ridiculous extent of Louis Vuitton), for next spring Prada tried to re-interpret these in a more minimal shape and form. With a Carmen Miranda twist.
The first few were simple in shape and bold color looks. Was it hourglass? Yes, but I don't know any woman, including myself, on whom this stiff sleeve and rounded shoulder would work. It didn't even work on the gorgeously proportional models.
When these were done, came the bananas and the monkeys. I can understand Miuccia Prada's desire to play. After all, fall season was so serious, with Vogue trying to take us back in time to when the children were polite and women weren't expected to work. But, as much as I wanted to be amused by these prints, the stiff fabric used to create these looks brought me down.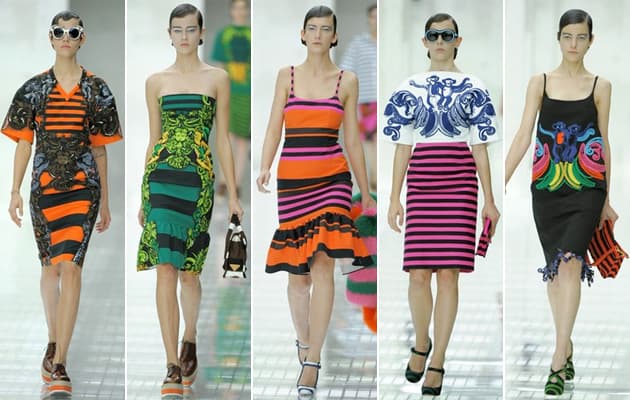 Call me simple minded, but the chic black and gray looks towards the end caught my attention. Slip dresses and skirt suits were just playful enough to stir clear of boredom but avoid ridiculousness. Bottom line? I'm obsessed with the thin-stripe skirt suit. The bananas? Not so much.