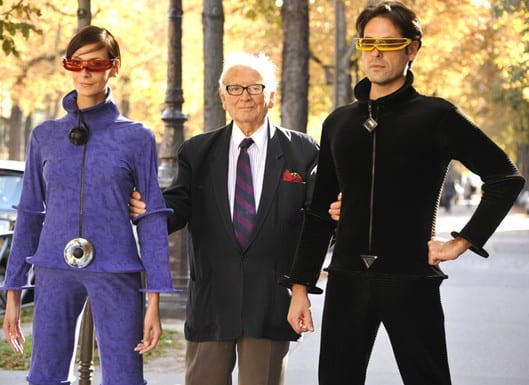 Pierre Cardin with models wearing his new collection | Photos: WWD
I was very excited to learn that Pierre Cardin, an old time French fashion power house returns to produce seasonal collections. He is currently operating one couture store (with loyal clientele of course) in Paris and has licensees producing boring elegant suits and ties for men which Mr. Cardin himself in not particularly fond of.
Unlike other big name fashion houses who return to produce collections after a long hiatus, Pierre Cardin, who is 88, is not hiring a youngling to revive his brand. He's designing the new collections himself. And he's determined to remind to the world of his futuristic avant-garde aesthetic (unlike that boring menswear that carries his name) – especially the young people who might not remember him.
I don't (and won't) judge the collection before seeing it in it's entirety, but right now I'm a bit worried. The looks don't look particularly innovative but rather like costume-y 60s futurism (calling Jane Fonda) that we've left in the past. I'm hanging my hopes on the yellow draped number.
[WWD]