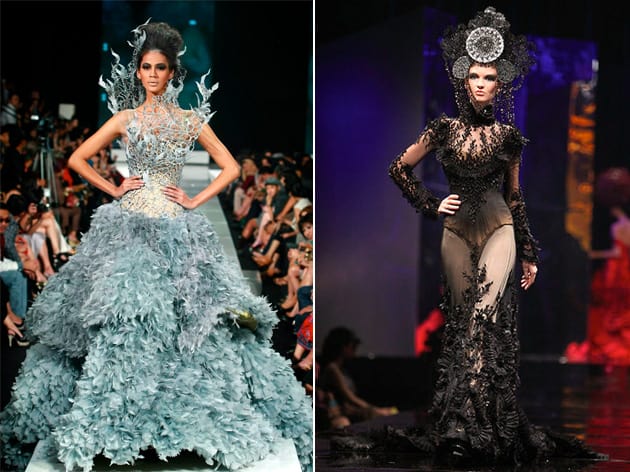 Tex Saverio's La Glacon collection (L) and Tex Saverio's My Courtesan collection (R)
I first wrote about Tex Saverio's "La Glacon" Spring 2011 collection a few weeks ago, after scouting Jakarta Fashion Week's photos – looking something special. And Tex Saverio is definitely something special. He was one of the chosen few to take part in the Dewi Fashion Knights runway show – the closing event of Jakarta Fashion Week. Despite already having designed a collection, "My Courtesan", two months earlier, he chose to create a whole new collection. And so "La Glacon" was born. It is his collection "La Glacon" that closed Jakarta Fashion Week with a bang.
Tex Saverio won his first award – the Mercedes-Benz Asia Fashion Award – when he was only 21. Today, at 26, after showing two collections this year, My Courtesan and La Glacon, one thing is clear. This is just the beginning.
After being dubbed as the Indonesian Alexander McQueen by the internet, I just had to catch up with him for an interview. His raw talent and breath-taking technique combined with a great personality pretty much promise his future greatness.
Tell me a little about yourself. When did you first realize you wanted to be a fashion designer?
Since high school, I had a drawing hobby and I always liked to draw in the middle of class. Until one of the teacher said to me, "If I were you, I wouldn't go to this school, I would go to a fashion school instead. Why don't you become a fashion designer..?"
Where did you study fashion design?
In Jakarta
Who are the biggest influences on your designs?
A woman. A woman is my biggest inspiration in my designs. But [that] doesn't mean that a woman is the only inspiration.
How would you describe your design aesthetic?
Design is about a character, one's soul. A good design should be able to emphasize one's character. It is like an energy to one's soul. So it's not just about the cut/pattern, or color, or style. It's about a soul. I always think and try to put a soul in my works, I want every single piece of my works to have a soul. That makes a huge different.
Some designers say they never look at other designer's work. What do you think about that statement?
Well… it actually depends on one's thought. As for me, I don't agree, its just my opinion. Its like closing our eyes from the outside world. We don't want to see what's going on, we live in our own world. And by doing that, we won't be able to push ourselves to be better. Not only as designers. Whoever we are, we are allowed to see others so that it can motivate us.
Do you have designers that you like or even look up to?
Yes, I have a lot. Valentino, Elie Saab, Givenchy, etc.
Name the ultimate model you would love to walk in your runway show?
Naomi Campbell.
Which celebrities would you love to see your clothes on?
So many! Angelina Jolie! Lady Gaga, Christina Aguilera, Nicole Kidman, Charlize Theron. A woman who has a strong character.
Your Spring 2011 collection is called "La Glacon" and is absolutely marvelous, what inspired you to create it? Is there a story behind it?
Thank you so much. Two months before "La Glacon", I launched my very first collection. It's called "My Courtesan" and it's dark. A few weeks later, I was chosen to be part of Dewi Fashion Knights, as a closing show, for Jakarta Fashion Week 2010/2011. The Dewi Fashion Knights event is the most anticipated show of all shows in Jakarta Fashion Week. Being chosen as one of Dewi Fashion Knights had surprised me, because as far as I know, the title is very prestigious and it is chosen by all fashion media. So I felt the need to create something special, as my "Thank you" for being trusted to be a Dewi Fashion Knight. Something surprising and different from my last collection. So I thought I'd challenge myself to create a contradicting side of "My Courtesan". If "My courtesan" was dark, then I'll create something light. But, I have to keep my soul, I want people to feel that. And that will prove, that my character is not build by the color, the pattern, or the material. It's just there. So that's how "La Glacon" was born.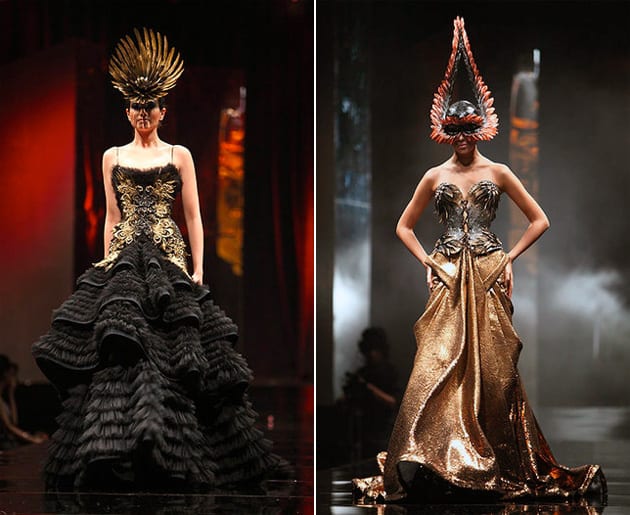 Tex Saverio "My Courtesan" collection
All of your collections are always so intricate. Tell me a little bit about your design process. Where do you look for inspiration? How long does it take you to create a collection?
First of all, when I create a collection, I never use the same materials or the same technique for the whole collection. For "La Glacon", I only created eight looks, and for each of them I used different materials and different techniques. I believe, that my character is the main concept, not the material or color or technique. As for inspiration, I am always inspired by a woman. It could be the way she looks, the way she acts, or even the way she thinks. The character. You can see it in "My courtesan", the character is sensual, dark, sultry … The Femme Fatale. As for "La Glacon", it is cold and mysterious … The Ice Queen. So when I want to create a collection, I always start by thinking "What is my woman feeling now? What does she want to look like? How does she act and think?" From that point, I create a new collection. For my new woman.
Most of your collections consist of out-of-this-world glamorous eveningwear. Do you think you'll ever do something more low key? Like daywear or separates?
Yes. Of course. A lot of my clients now ask me to create a ready-to-wear collection. But for now, I have to focus on my custom line first. I am just a newcomer, so I need to learn a lot! [laughs]
Your most recent collection is gathering a lot of good attention. Do you have any set plans for expanding internationally?
Yes, I have this dream, that one day, one of my design will be on the international Red Carpet. I will try my best. Wish me luck. [laughs]
A lot of people today call you Indonesia's Alexander McQueen. Are you bothered at all by the comparison?
[Laughter] This is too much. I am nothing compared to him. I am so flattered to be called the Indonesian Mcqueen. But on the other hand, I feel like I am nothing compared to him. But one thing for sure, that will be my motivation. So, no, its not bothering me, its my motivation!
If you weren't a fashion designer, what other career path would you take?
I would still be a fashion designer. No matter what. I would die trying.
Do you already have plans for your next collection?
Yes. A day after "La Glacon" was released, a new baby was born. [laughs]