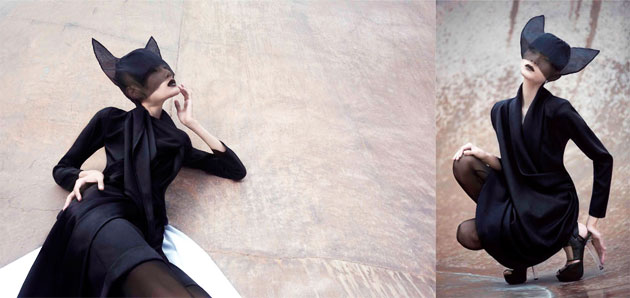 Androgynous. Minimalistic. Superbly tailored. Avant-garde even, these are only a few words slipping of the tip of the tongue when looking at the MAX TAN Fall 2010 collection.
Fitted to perfection and geometrically constructed, this monochrome collection, although minimalistic, does not lack in detail. Play on black and white and unexpected cuts create a strong silhouette in an avant-garde ambiance while leaving the pieces totally wearable. Some would even be an appropriate office look. And others, like the strong-shoulder black draped dress resembling an 80's power cut double-breasted blazer or the black geometric mini dress, will mean all eyes on you (in a good way) in any evening situation.
Based in Singapore, Max Tan debuted in 2007 with his 'Borrowing from My Boyfriend's Wardrobe' collection. A year before, his first collection won him the 2006 Best Graduate Award at NAFA when he graduated from Nanyang Academy of Fine Arts. For a newcomer, he is retailing in an awful-lot of places – five boutiques in Singapore, Laufsteg No.11 in Germany and Galleri Demo in Sweden. I'm sure this list will only keep expanding.