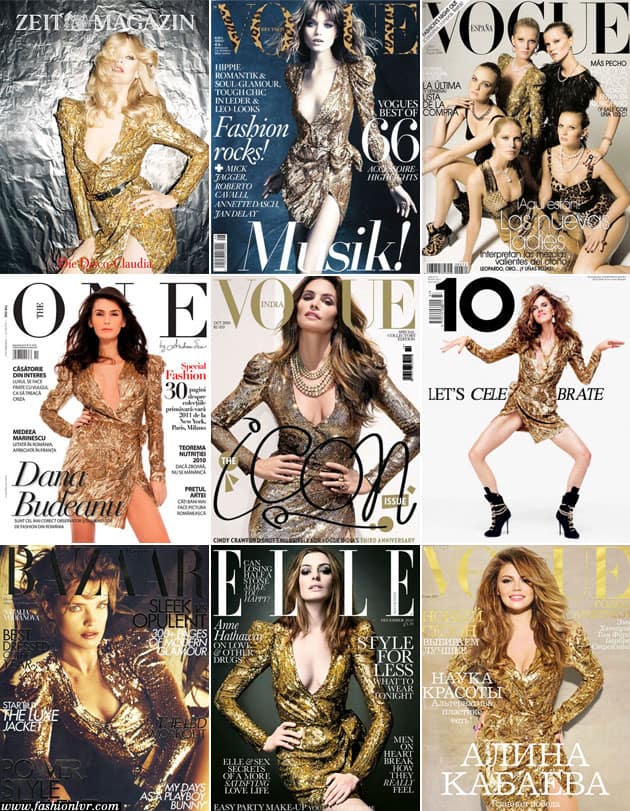 Ah, the many faces of Balmain Fall 2010 Gold 'It' dress. While all eyes were on Louis Vuitton's and Prada's demure New Look dresses, this glamorous and sexy number traveled the world conquering 9 fashion magazine covers.
Claudia Schiffer first donned the dress for one of the 40 covers of Zeit Magazin's 40th Anniversary Issue. Abbey Lee Kershaw then wore it for the cover of Vogue Germany August 2010. Toni Garrn wore the dress as part of a group shot cover of Vogue Spain November 2010. That same month Dana Budeanu wore it for the less noticeable The One Romania November 2010 cover.
Cindy Crawford was next, wearing the Balmain Fall 2010 gold dress for Vogue India October 2010 cover. Anna Dello Russo gave it a quirky side donning it on the 10 Magazine Winter 2011 cover.
Natalia Vodianova really wore the hell out of this dress by first wearing for Harper's Bazaar Women Of The Year Awards and following it up in the same dress with Harper's Bazaar UK December 2010 cover and editorial. December was a busy month for that Balmain Fall 2010 gold dress because Anne Hathaway also wore it for the cover of Elle UK December 2010.
You'd think New Year's Eve would put an end to this madness, but you would be mistaken. Balmain Fall 2010 gold dress invaded 2011 with Alina Kabaeva donning it for the cover of Vogue Russia January 2011.
So far, so good.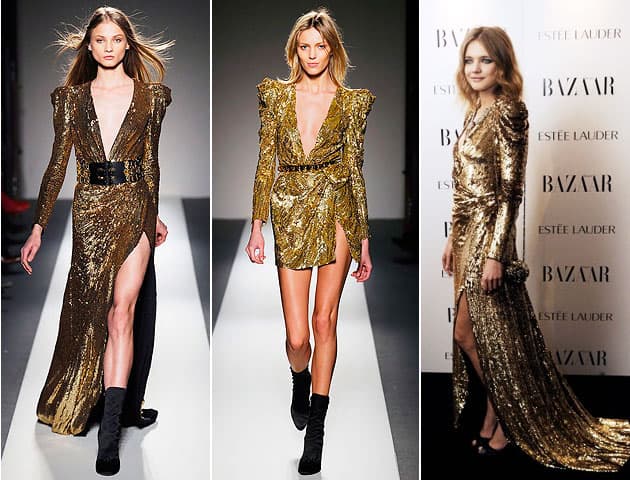 Balmain Fall 2010 Runway looks / Natalia Vodianova wearing the same dress