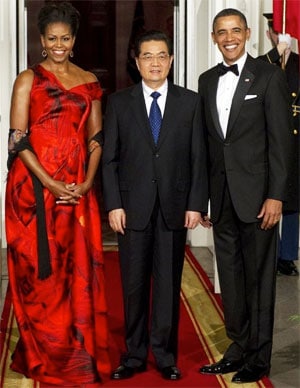 "My understanding is that the visit was to promote American-Chinese trade — American products in China and Chinese products in America. Why do you wear European clothes?" That is what Oscar de la Renta told WWD, addressing Michelle Obama's choice to wear a red Alexander McQueen gown to the China State Dinner.
I think we can all agree that when it comes to fashion and garment industry, neither our leaders nor the Chinese would want to touch the subject with a ten foot pole. Not while gruesome working conditions, exploitative wages and inadequate standard codes are in place in the Chinese garment industry (among other things).
No, the China State Dinner was about niceties and A-listers. Things like Chinese giant pandas remaining at the Smithsonian National Zoo (and out of their natural habitat) for another five years were discussed. Even the all-American menu of ice-cream and apple pie was requested by the Chinese delegation. It was not at all a theme the White House was going for.
Do you think Michelle Obama should have worn an all American dress?