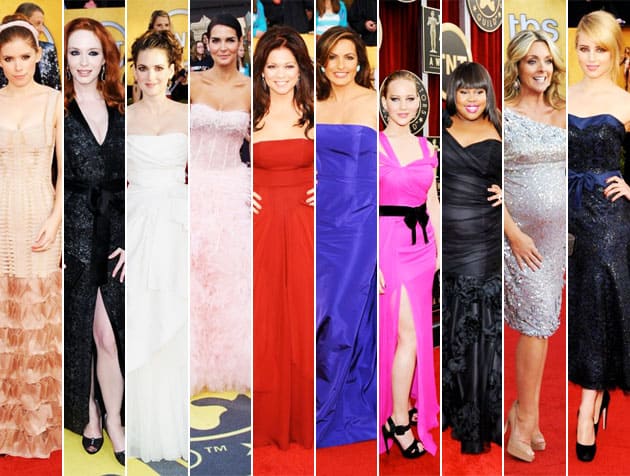 Some managed to shine at the 17th Annual Screen Actors Guild Awards last night. And others … should have looked twice in a mirror before leaving the house.
I noticed a long time ago that from some reason, critics tend to judge harshly svelte starlets' outfits while either leaving their more heavy counterparts alone or giving them special props for not leaving the house in a tent. Well, I am going to break this tradition. Be they fat, huge-breasted or simply pregnant ladies. Considering how many people are uprising, demanding designers and magazines to cater to heavy (I'm not willing to use the term "real") women, then we should be able to superficially judge their red-carpet looks just the same. They can't have their cake and eat it too (however tempting that sounds, I'm sure).
I hated that Hervé Léger dress the moment I saw in the Hervé Léger Spring 2011 collection and to be quite honest, I never expected to see it on the red carpet. Sure, some are still rocking the classic Hervé Léger dresses like it's 2007, but Kate Mara went and chose an especially ugly and busy gown.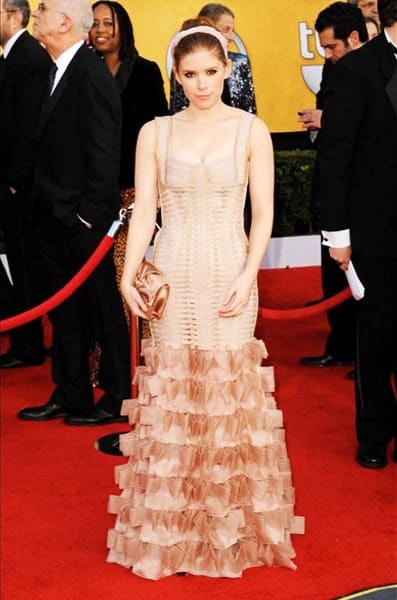 Christina Hendricks looks so sultry and gorgeous in Mad Men. She really should learn that wearing a corseted undergarment and sucking it in is the only way she can pull of this heavy-with-giant-breasts look she's going for. Hendricks wore a rather unflattering number by L'Wren Scott.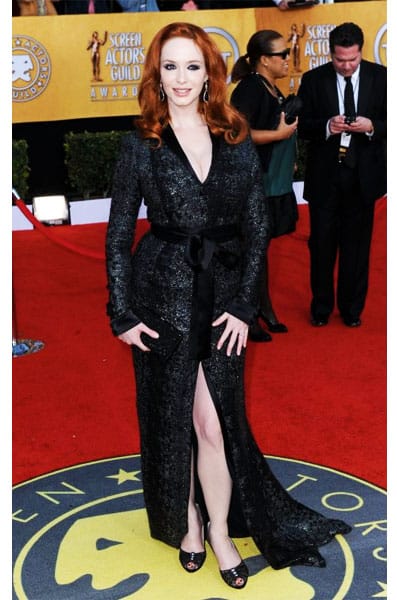 Winona Ryder looked like a bride just left at the altar in a white Alberta Ferretti gown. Creepy indeed.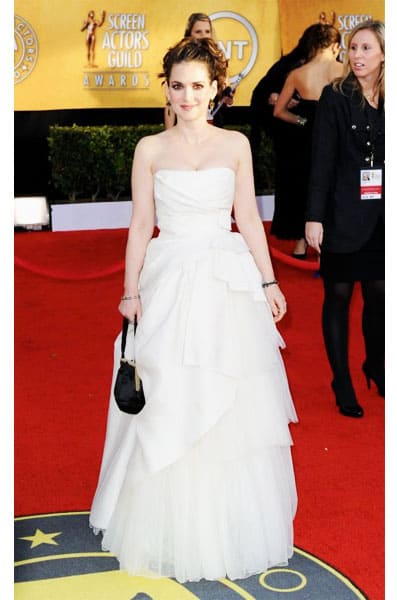 Angie Harmon wore a powder-pink Monique Lhuillier gown with ostrich feather oversize bell skirt. This dress belongs in a burlesque show, ready to be torn away, not on the red carpet.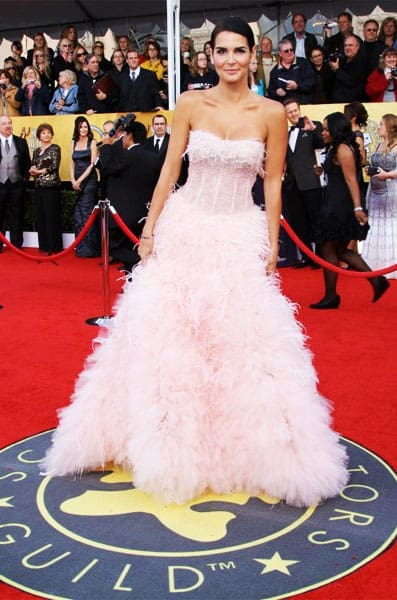 Unlike Tina Fey who saved her red dress on the red carpet look by wearing it in a textured fabric, Valerie Bertinelli opted for a plain fabric red dress, thus completely blending in with the carpet. Not the effect she was going for I'm sure. It's especially unfortunate because her new figure is stunning.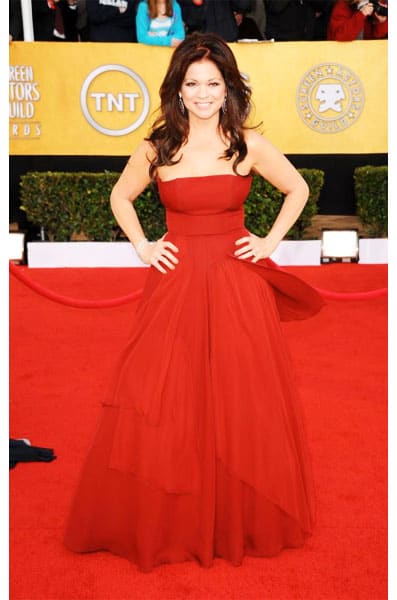 Just once I'd like to see Mariska Hargitay wearing a fitted dress that is actually fitted … to her. Hargitay wore a violet Isaac Mizrahi that could have been saved had it been fitted better at the bodice.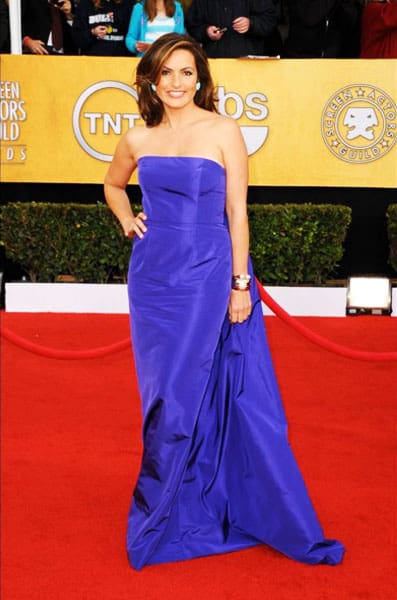 Jennifer Lawrence wore a fuchsia Oscar de la Renta gown with a black belt and pumps for contrast. The color might be bold, but the styling is so safe and banal that it crossed over from a prestigious awards event to prom night.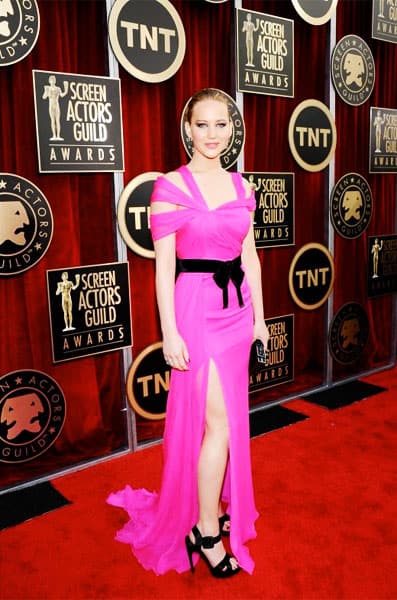 Amber Riley wore a black Anne Barge dress. The mermaid gown look is really getting old, I'm not even sure why designers decided it looks good on a woman's body in the first place.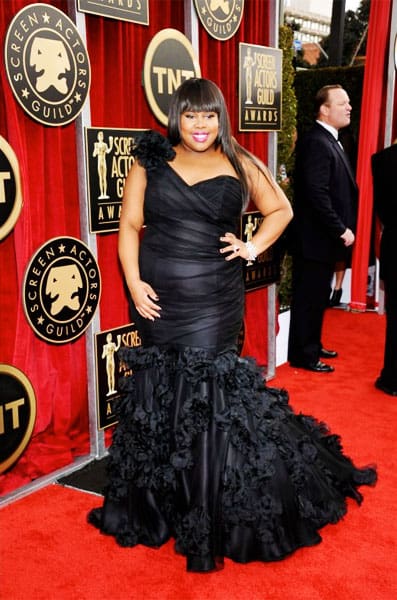 Jane Krakowski looked so good at the 2011 Golden Globes, but unfortunately disappoints this time with a one-shoulder Badgley Mischka that made her look boxy.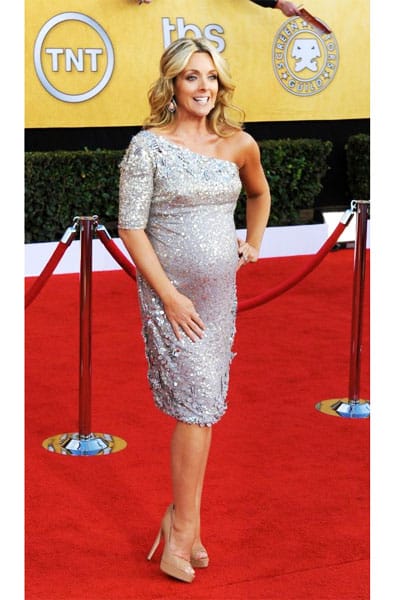 Dianna Agron looks cute in a navy Chanel dress. The length of the skirt is rather odd and the whole look seems more cocktail than red carpet.