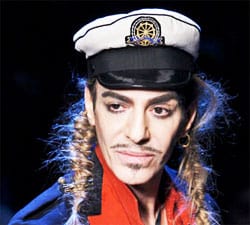 John Galliano really knows how to break a girl's heart. Dior Couturier was arrested yesterday after a drunken brawl at a Paris café. According to witness statements, Galliano was drunk, allegedly throwing curse words and anti-Semitic remarks, eventually attacking a couple – fellow patrons at the Marais district café.
Police are investigating the matter and no charges have been made so far, but that was enough for Dior to ask Galliano to stay away from all work duties until the situation is resolved. This puts strongly into doubt the forthcoming Dior Fall 2011 show on March 4th.
It should be noted that while his drunken and belligerent state was confirmed by the police, the allegations regarding anti-Semitic remarks were not and remain solely witness statements. Police have already released Galliano without filing any charges and are now investigating those alleged remarks.