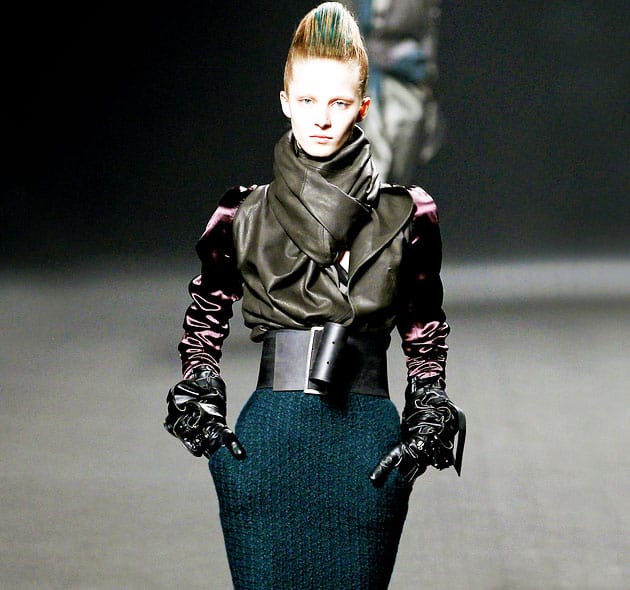 The rumor mill as to who will replace John Galliano as Dior's head creative director hasn't stopped spinning since the designer's tragic fall from grace a week ago. At times it feels as though people are simply throwing their favorite designers' names out there. We still have a good couple of weeks of speculating to go, since Dior is in no rush to make a decision. According to Fashionologie, Dior won't make statements on the matter for quite some time. "They're receiving offers," a source close to LVMH says. French employment laws are also in LVMH's way. Until the completion of Galliano's firing process which might take a few weeks, the luxury conglomerate cannot officially begin replacing him.
While many are betting on an existing LVMH talent to head Dior, it seems highly unlikely. Marc Jacobs is detrimental to Louis Vuitton and LVMH wouldn't want to danger one fashion house in favor of another. Both Cathy Horyn and WWD agree that Riccardo Tisci is too edgy and gloomy for the more feminine and coquettish Dior and Phoebe Philo's minimalism simply wouldn't work for the fashion house, especially when it comes to couture.
Rodarte, Tom Ford, Pucci's Peter Dundas were thrown into the betting pot as far as LVMH outsiders are concerned. These are unlikely for quite obvious reasons. Tom Ford has just made a comeback for his signature collection. More over, his new attitude of secrecy and intimacy is at odds with Dior's loudness. As far as Rodarte and Peter Dundas are concerned, while not too unrealistic, it simply doesn't feel like an organic fit.
Then there are Alber Elbaz and Haider Ackermann. Lanvin's Alber Elbaz seems like an excellent fit for Dior. Both are about strong femininity and I can only imagine the beauty of Elbaz' couture collections. But the designer not only seems quite content with his place at Lanvin, but also, according to WWD, he's under contract and is invested in his current fashion house home. Indeed, out of the two, Haider Ackermann seems like the logical choice. Interview's Fabien Baron, LA Times and WWD all agree that Ackermann's and Dior's aesthetic would be a perfect fit. Not to mention the buzz around Ackermann right now. His Fall 2011 was a raving success and he is Paris' current talk of the town.
"There are places I would like to go and that I might go, but it's just a question of, you know, it's just a love affair," said Ackermann when asked by Hilary Alexader about possibly heading Dior. "You just have to meet the right person and look together in the same direction."