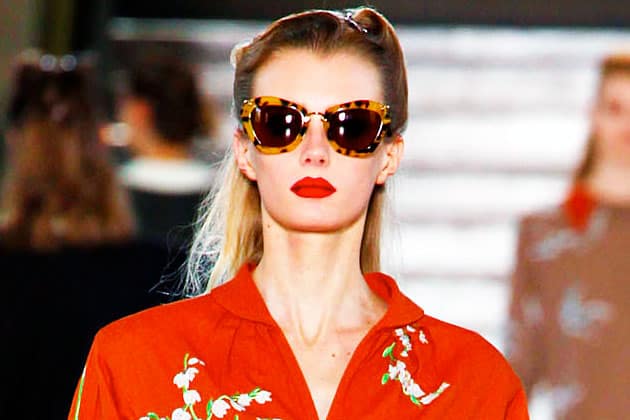 While normally Miu Miu collections serve us with an over-the-top dose of young playfulness, this time Miu Miu Fall 2011 was all about vintage coquettish chic. One could consider vintage dressing as adult, remembering a mother's style in the Fifties, but there was something very young and fresh about the collection. No dowdiness in sight.
Miu Miu Fall 2011 served us with familiar vintage hourglass-shaped dresses and coats, updated into the now with oversize elements like huge shoulders, outsize collars and fur stoles used as belts.
The best part of the collection were the accessories. The bags were all oversize gold frame clutches, made out of leather, suede or fur and those cat-eye sunglasses, cropped at the tip, will surely become an 'It' item in few months time.
Miuccia made sure we won't get bored with the mute vintage color palette by adding glitter to the shoes and sunglasses of the last few looks.