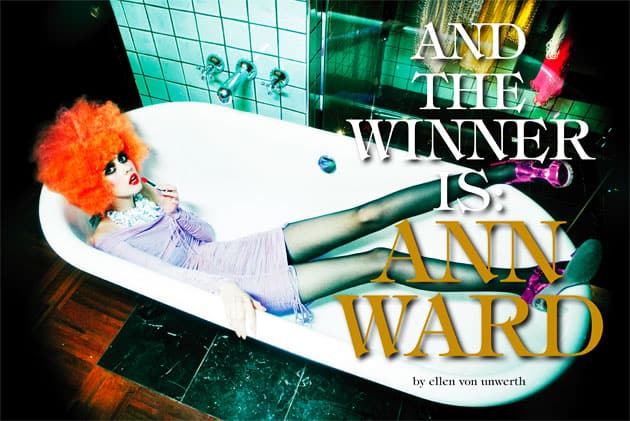 Ann Ward won America's Next Top Model season 15 which Tyra Banks dubbed as the high-fashion season. Endorsed by Vogue Italia, as part of her prize Ward was also to get a Vogue Italia editorial and a cover of Beauty In Vogue supplement (coming in May).
Well, the editorial is finally here, appearing on the pages of Vogue Italia March 2011 issue, but is it really the break any model would die to get? Photographed by Ellen Von Unwerth, the editorial feels like an extension of an ANTM photoshoot – bad over-the-top wigs, too much makeup and complete disconnect from current fashion reality. Playing into the disco theme, Ward wears Pinko By Mark Fast Spring 2011 collection which was inspired by Studio 54. At least the season is right.
The accompanying article, however sympathetic to Ward, makes it's very clear that she is gracing these precious Vogue Italia pages because she won a competition, not because she is an actual model, doing a real fashion editorial. It's doubtful, however, Vogue Italia could have done anything different. Despite winning the season, Ward is not even remotely ready for the real modeling world, proving once again ANTM's extreme disconnect from reality.