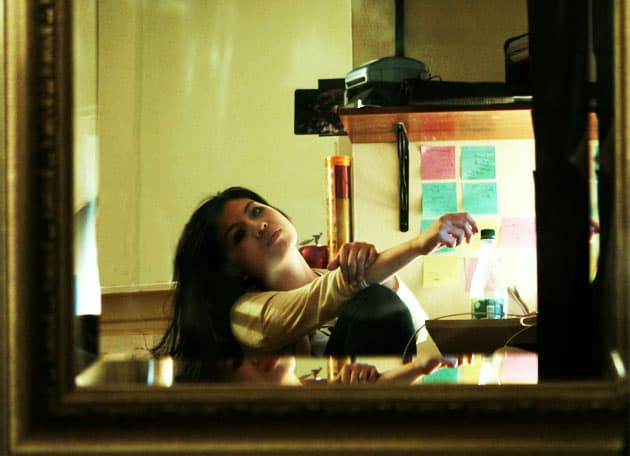 Michelle Ng
Young&ng jewelry is the brainchild of designer Michelle Ng. Her second collection to date -Fall 2011- was inspired by the intricacy of the human body (blood cells, bones and muscles) and debuted to public, very appropriately I must say, at the BODIES Exhibition here in New York. Be it the little red Swarovski crystals resembling blood cells or metalwork mimicking the bone matrix, Young&ng headpieces and cuffs are definitely making a statement with each piece being a wearable art.
Having received a formal art training at the University of Auckland, New Zealand, Michelle Ng walks the fine line between art and fashion, creating unique but accessible jewelry. With two beautiful Young&ng collections under her belt, to say we expect great things from her would be an understatement.
[enterslideshow]
Your new collection was inspired by the intricate inner workings of the human body, how did that inspiration come to you?
I am always finding inspiration in subjects that are still being discovered, or have been around for ever or are eternal. For Fall/Winter 2011, I was drawn to the "Gray's Anatomy" Medical book. Beautiful book that holds all the wonder about the human body put together by humans. It was the drawings and intricate details of the insides of bodies from veins to blood cells to tiny tiny bones that are us.
Bones, blood, skeletal structures – these are quite edgy! Are you designing for a haute couture neo-goth girl or do you have someone entirely different in mind?
Hahah! I design for everybody. They say, if you are a true artist, you can design anything and anyone…so I guess that is my aim! My ideal girl is strong and ethereal and you can sense her philosophical intelligence. She doesn't worry about age, she is timeless. She is a working girl, who works with passion and looks for art in everything … business, clothes, literature, food, life. She walks with purpose. I guess she can be either haute couture neo-goth girl or not haute couture neo-goth girl!
Who are your favorite womenswear designers? If you had to match a piece of Young&ng jewelry to a designer who would it be?
Hm. This is hard! Tom Ford. He has an amazing architectural background which he adapts oh-so-cleverly to clothes. His understanding of true form and art would coincide beautifully with my pieces. Alber Elbaz. He has the most amazing ability to adapt his clothing from female to male. He has achieved his work at that level of making human into desirable creatures. Nicholas Kirkwood. Pure sculpture. Pure beauty.
You said in the past you'd like to redefine the fine line between art and fashion and while edgy and unique, your jewelry remains very accessible and wearable. You don't fall into the over-conceptualizing trap so many other designers trained in fine arts sometimes fall into. What advice would you give to a designer wanting to combine art with fashion?
Thank you. It is great you see that in my collection and brand. Thank you. Advice: Be open minded. It's amazing what people comment and suggest whether its about art, the business, the image, the market. Take it all in and turn it into something they NEED and can touch and hold on to.
Any artists in particular you're inspired by? Any favorites?
Louise Bourgeois. Her ability to remember and project her childhood and emotions into art is beyond words. So intelligent was this woman. She was a stable, emotional wreck. Duane Michals. Every time I view his photographs, I feel like he is behind me taking a photo of me looking at his work. I like escaping into this world. Joyce Campbell. She was my professor and tutor at University [of Auckland]. She pushed me to be more open minded by showing me she was. Her medium is different from mine but she never doubt I could achieve art and fashion. Plus her work is gorgeously stunning and every time I walk away breathless, asking the same question "How did she do that?"
This is your second collection and so far you've given us the most amazing cuffs, what are your plans for the future? Any special projects?
Again, thank you. Currently, yes, I am focusing on expanding onto more cuffs, rings, and of course, headpieces. I have a lot more to learn about being creative and the business. I would love to collaborate with amazing designers like Chanel, Lanvin or Rodarte for runway shows. However, I have always been lured by smells and love to dabble in the haunting science of chemistry, so perfumes are defiantly in the mixture of works. Perhaps this will come earlier than later?
Shop Young&ng jewelry, $330-$1,675, at Youngandng.com/store.